Training seminars are an important stage of preparation for spring field work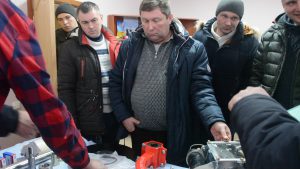 During January and February start-up workshops for engineers, agronomists and machine operators of all structural units of Grain Alliance (Baryshivska Grain Company) will be held at the Center for the operation and repair of agricultural machinery in Pyriatyn, Poltava Region.
Traditionally, before the beginning of the spring field work we organize training in the service center by leading companies – producers, whose equipment we use in the fields of Baryshivska Grain Company. Representatives of Väderstad, Pöttinger and other manufacturers will hold seminars for improving skills and knowledge of engineers and agronomists. Besides, there are seminars for the engineering service and for agronomists in our center in order to familiarize them with advanced technologies and to focus on the implementation of the tasks set for the spring of 2019, – said Ivan Barannik, the manager of the Pyriatyn Center for the operation and repair of agricultural equipment.
The first relay was launched by the representatives of Pöttinger company, which conducted atraining on the operation and maintenance of their own equipment on January 30. Service engineers have revealed the main issues regarding the configuration and operation of the Terrasem C8 sowing complex and told about the adaptation of the tractor to it. Also, the seminar discussed important issues that may be encountered by workers during the sowing company.