The modern elevator – what it is and how it is? The Agricultural Forum Elevator-2020
The Second Agricultural Forum Elevator-2020 was held in the Ukrainian House. Industry innovation, logistics and security at the elevators. These are just a few of the topics discussed by the forum participants. The event, organized on the initiative of the information company ProAgro Group, brought together representatives of the elevator business, the heads of the largest agricultural enterprises, officials.
Improving energy technology and honesty with customers. Baryshivska Grain Company presented its principles of operation of the elevator. Discussed the use of solid fuel boilers in production processes, economic benefits from alternative energy sources. "The philosophy of communication with clients is of great importance in the work", – said Tahir Musayev.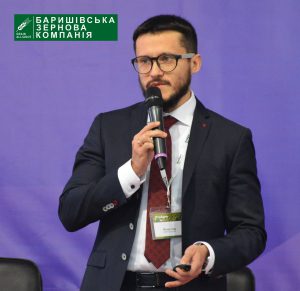 Tahir Musayev, Deputy CEO/Chief Commercial Officer of Grain Alliance:
"We are Ukrainian company with 100% Swedish investment. Besides finance, these are also European principles of mutual relations with all stakeholders. We have come not for a day, but for many years to come. We have long-term prospects for development. For long-term relationships it is not necessary to spoil relations with the client for the sake of adding 1-2% of grain moisture in our laboratory and winning 50 hryvnias per ton – we in the company understand that these are not right. Long-term relationship – is our goal. In general, it is a matter of conscious choice of honest work. Further we will invest more in laboratory equipment and continue base our work on honesty and open competition"
The forum also opened an exhibition of technologies that may be needed in the elevator business. Object safety and cost control solutions, construction technologies were presented here.