Operation of Baryshivska Grain Company during quarantine restrictions in Ukraine: maximum distance with maximum support to each other
The COVID-19 pandemic become a test for the world economy. As of March the 12th, 2020 the Government of Ukraine announced regulation on quarantine introduction. A large number of enterprises have decreased operations or switched to simplified working conditions. In agriculture spring is a time for pre-seeding and seeding campaign and the works can't be done without professionals in the fields. So the works in Baryshivska Grain Company were organized as efficiently as possible adjusted to extraordinary conditions. Some of the employees switched to the remote mode of operation, for the rest employees in the offices and units were provided with protective masks and disinfectants. Through internal information resources, employees are provided with all the necessary information to counteract and prevent COVID-19.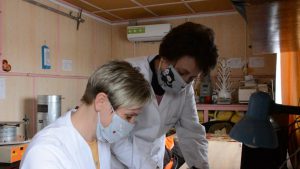 Evgeniy Radovenyuk, CEO:
– This is our principle, which we confirm every day – our employees are the most important value of the company. Therefore, we have minimized production processes that can involve more than three people. However, agribusinesses in Ukraine bear a great responsibility, first of all, for food security. We cannot allow grain sowing to be delayed. So, in compliance with all safety standards, we continue to work. We go out into the fields for ability majority of Ukrainians to stay home.
This example of the work of the Baryshivska grain company Grain Alliance showed how overcoming common obstacles brings people together. During the quarantine period, the employees of the departments of the company only strengthened the internal relations, the employees of the company are always ready to help each other. For example, work of the elevator of the company during this period.
Ievgen Zaglada, CFO:
– Although today the social distance between people has increased, but the relations in our teams have become warmer. Our employees take care of each other, understanding that health of one and everybody is the health of the whole team. We all monitor the sanitary condition of the territories together; the working day begins with the treatment of working surfaces with disinfectant solutions. We are convinced that in such close cooperation, as one big team, we will be able to adequately overcome the difficult work conditions of the agricultural complex this year.