More than half a million hryvnias has been donated by Baryshivska grain company Grain Alliance for helping local communities to resist COVID-19 pandemic.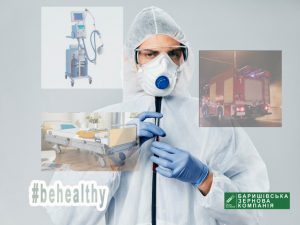 "Our company is well known in social responsibility projects for local communities. Therefore, in the current situation, the enterprise has deepened its programs of assistance to healthcare institutions to providing necessary financial support. In particular, new artificial lungs ventilation machines were purchased with our assistance for Berezan City Hospital and Drabiv Central District Hospital. The company has also implemented more than a dozen of projects to provide hospitals with protective special suits, respirators and disinfectants."- said Victor Bezsmertniy, the Director of the Company.
Volodymyr Humeniuk, Chairman of the District Council:
– Our cooperation with the Baryshivskа grain company is a model of social partnership of business and community. When the humanity and responsiveness of the management of the well-known company in Europe comes to the aid of our citizens in the most difficult times for Ukraine. Recently, in the field of medicine, we have implemented several projects with the Baryshivska grain company. Among them is the construction of a modern medical dispensary in the village of Lihnivka, Baryshivsky district. So Baryshivska grain company is our long-standing and good partner.
As of the 1st of April, during the first two weeks since the announcement of the quarantine restrictions in Ukraine, the Baryshivska grain company has donated almost 600,000 hryvnias in the communities to help to resist COVID-19 pandemic.