Grain Alliance expands storage and grain drying facilities in Nizhyn, Chernihiv region. No need for fossil fuels – only renewable bio fuels.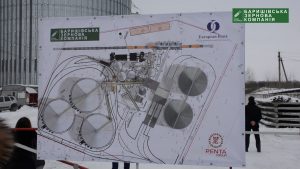 On February 9, the foundations of an extremely important project were laid in Nizhyn, Chernihiv Region. The construction of the second stage of facilities was solemnly opened at the Nizhyn Elevator of the Baryshivska grain company. The plan is to install additional silos and dryer made in Germany with a Ukrainian generator that will run on biofuel. The project is implemented in direct cooperation with the European Bank of Reconstruction and Development (EBRD).
Evgeniy Radovenyuk, CEO of Baryshivska grain company
"Increasing the capacity of this linear elevator simultaneously increases the ability to process grain that we grow in our fields, and expands the capabilities of agricultural enterprises in the Nizhyn area for processing, storage and transportation to grain ports. We continue to develop this powerful bioenergy enterprise; we plan to complete the second stage of construction this fall. "
The Ambassador Extraordinary and Plenipotentiary of Sweden to Ukraine, Mr. Tobias Tiberg, attended the grand opening of the second phase of Construction.
Tobias Tiberg, Ambassador Extraordinary and Plenipotentiary of Sweden to Ukraine
"We are pleased to be able to support this project, which is a contribution to an environmentally friendly and energy efficient grain processing industry. Agriculture is one of the most important and future industries for Ukraine, it contributes to the development of the economy in Ukraine. And we are pleased that our country is acting as an investor in economic development, and as the initiator of energy efficiency projects for business and environmental protection in Ukraine."
Nizhyn elevator of Baryshivska grain company Grain Alliance is a unique industrial enterprise of Ukraine. In its work, the elevator does not use any gas, and works on solid bio fuel only.
Tahir Musayev, the vice-president, Chief Commercial Officer of Baryshivska Grain Company
"We started construction of the Nizhyn Elevator in 2017. And from the first season the facility worked at full capacity. From the very beginning, energy efficiency and environmental safety were the strategic foundations of the new project. The expansion of the Nizhyn Elevator is a natural step in the development of the company. As a result of the expansion the total storage capacity will be increased to more than 300 thsd tons. For the next season, we will be ready for fruitful cooperation with agricultural producers all over the regions of our presence."