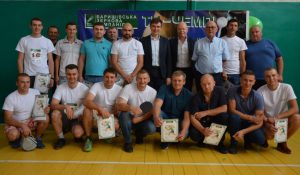 On September 12, 2019 the First Open Table Tennis Tournament Among Employees of Baryshivska Grain Company Grain Alliance was held at the Berezan Sports Complex in Berezan town. The main goal of the event was to strengthen the links between the employees of the company's units. Therefore, there was no customary division for the prize winners of the tournament.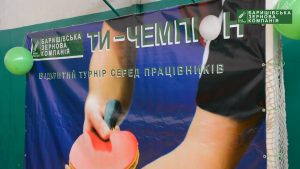 – All the tournament participants without exception received honors from us, all received presents for participation – T-shirts. And I think that each of the players today will come back home, most importantly, in a good mood. They spent the day devoting it to health and sports, and they spent the day in one great wonderful team. I think this is the most important thing we could boast of today, – said Igor Sereda, the tournament's referee, at the end of the game.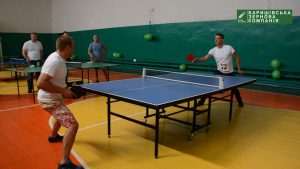 As a result of the first two rounds, four players came to the finals: Vadim Kovalchuk, Head of the Human Resources Department, Eduard Yanchuk, an Agronomist of the Kyiv Region Directorate, Oleksandr Nesen, an Agronomist of the Poltavshchina Directorate, and Volodymyr Maxymenko, a tractor driver of the Nizhyn Elevator Branch. Vadim Kovalchuk, the head of the company's personnel department, won the final intense games. The participants of the tournament welcomed Grain Alliance CEO Evgeniy Radovenyuk and Grain Alliance Head of the Board of Directors Johan Damne. By the way, Mr. Damne's participation in the tournament was not coincidental – in Europe he is well known as a mentor and coach of famous athletes in table tennis.
– Such wonderful cooperation goes between the units. The main idea of ​​the tournament is to be one team and we achieved it. I believe that such competitions encourage teamwork where all the participants are the winners. As a result, the whole enterprise wins. My sincere congratulations to all the participants of the tournament, – said CEO of Grain Alliance Evgeniy Radovenyuk.