"Efficient Elevator. A Successful Business 2019" Practical experience for elevator business representatives from all over Ukraine.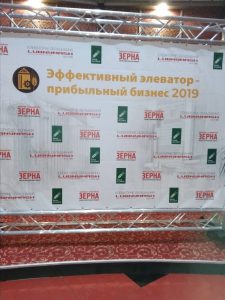 The second day of the Workshop "Efficient Elevator – A Successful Business 2019", which took place in Lubny city, Poltava Region on May 16-17, was held on the Pyriatyn elevator of Baryshivska grain company Grain Alliance. Nearly fifty participants from all over Ukraine went on the company's excursion to find the answer to the question: "What exactly should be a successful and efficient elevator?" The answer is: rational investments, the latest technologies of energy saving and, of course, skilled workers.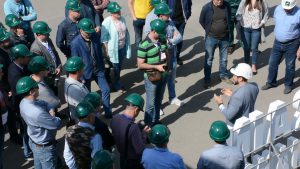 – Today we were especially impressed by the workers of the enterprise, engineering and technical workers. All of them are highly skilled and experienced. Much was said about the storage of grain, the technological nuances of the processes. We are very grateful to the Baryshivska grain company Grain Alliance for the good opportunity to adopt good experience in the organization of elevator business, "says the editor of the magazine" Storage and processing of grain ",( organizers of the event) Svyatoslav Tkachenko.
Sergiy Shcherban arrived to study Baryshivska grain company's experience from Kharkiv region. According to him, their Bilozavodsk elevator has been operating for 2 years, with a capacity of 110 thousand tons. "You have unique methods at the enterprise. The imported equipment and the domestic work are combined in one system, a successful system. We are really interested in the technological and technical experience today ", – says the elevator manager.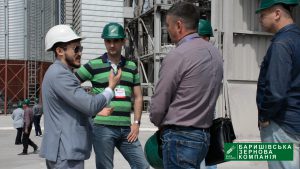 – Especially we were impressed by the system of energy saving, which functions on the elevator. I mean a grain moisture dryer that is supplied with heat by the generator working on biofuels. I think that it is the direction in which our enterprise needs to be further developed. We should do it decisively and seriously, as this project has been implemented in Baryshivska grain company, – says Sergiy Shcherban, the director of Bilozavodsk elevator.
That day, the participants of the workshop were able to get answers to any questions. Some lively discussions arose in some particularly interesting topics.
– In the English language there is such a collocation: "Professional courtesy". I am convinced that today's event is an example of professional courtesy. We are sincerely glad to host representatives of the elevator business of Ukraine on the Pyriatyn elevator. And we did have something to tell and show. The Pyriatyn elevator had been built for 7 years. We worked with many equipment manufacturers. Today we shared the experience we have gained, – said Tahir Musayev, the chief commercial officer of Grain Alliance.