Baryshivska Grain Company conducted training on industrial safety and labor protection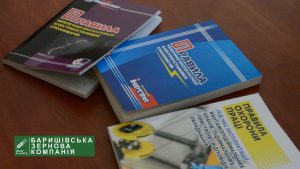 With the new arable farming season in Baryshivska Grain Company Grain Alliance we are concerned about training of employees in safety on the workplace. In order to improve the knowledge, the company conducted a training on safety arrangement and precautions for those responsible for its implementation in each unit of the BZK. The event gathered regional directors of elevators, farm managers, engineers, and mechanics. The classes were held by specialists of the Training College of Professional Education "Slavutych".
– We focus on aspects of fire safety, electrical safety, provision of hospital care during emergency, etc. Employees will find out about their rights and responsibilities, the rights and responsibilities of the administration, and receive the necessary clarifications on the application of current legislation. Absolutely everyone should know General course on safety at the workplace! – says the leading teacher consultant of "Slavutych" Leonid Poberezhniy.
After listening to the lecture the participants took a test. They passed it successfully and received certificates. The re-examination of knowledge will be held in 3 years.
– Baryshivska grain company pays much attention to safety and labor protection, so trainings are permanent. Last year we conducted training on the general course of labor protection, safe operation of load-lifting mechanisms, safe operation of grain dryers' operators and fire safety. In addition to today's classes, general course training of safety and employment protection will be conducted for another group of specialists, – said Viktor Rudkovskyi, labor safety engineer of Baryshivska grain company.
Safety at the enterprise is a matter of the highest importance. The observance of legislation in the field of the industrial safety and labor protection is the key to preserving the most valuable – human Life.