At Pyriatyn elevator 30 thousand tons of grain were dried on grain residuals
This was reported by Volodymyr Klepach, the Director of the Pyriatyn Elevator Branch of Baryshivska Grain Company Grain Alliance. At present, the company accepts corn from the farms of production clusters of the company – Poltava and Chernihiv.
– The elevator has received 52 thousand tons of corn, 25 thousand tons of sunflower and 12 thousand tons of early wheat that has already been shipped to consumers. At the same time, the company is shipping sunflower. In total, the storage capacity is over 100,000 tonnes. Meanwhile, we continue the practice that we successfully tested last year: storing grain in plastic sleeves. 25 thousand tons of corn has been already laid in the sleeves , – reports the Director of the "Pyriatyn elevator"department Volodymyr Klepach.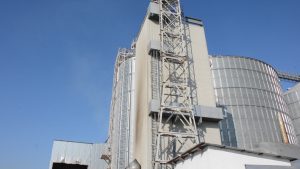 The elevator has three points of grain acceptance from vehicles, through which it can accept 2-3 thousand tons daily, including 3 different crops at a time. At the acceptance points there are dryers Bonfanti – the first two with a capacity of 500 tons per day are powered by natural gas, and the third, the largest, has a capacity of 750+ tons per day and runs on biofuel.
At the third point of reception, the Bonfanti drying complex with a heat generator runs on alternative fuel – grain residuals. This season 30,000 tons of grain have been received and dried here. The dryer is of Italian production, and the heat generator is domestic. They work energy-efficiently, economically and on biofuel,which is an environmentally friendly energy carrier, – says Volodymyr Ovdienko, a grain processing engineer at the Pyriatyn Elevator Branch.
– Last season, 37 thousand tons of corn and about 8 thousand tons of sunflower were dried on waste, and the cost of drying one tonne was 3 times less than the cost of drying on natural gas, – said Volodymyr Klepach, the director of the department.
– Improving energy efficiency is one of the priorities of the BZK Grain Alliance, – added Tahir Musayev, Chief Commercial Officer of the Company.