To see success with your own eyes: members of the board of Credit Agricole Bank visited capacity of the Pyriatyn elevator.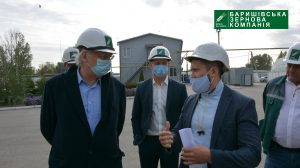 Stability in development and transparency in partnership. Innovation of region department the "Pyriatyn Elevator" has repeatedly attracted the attention of environmental experts of Ukraine. This time the Pyriatyn Elevator was visited by long term partners of Grain Alliance – members of the board of Credit Agricole Bank. The department was visited by the Deputy Chairman of the Board for Corporate Business Larisa Bondareva and Hans Ferm, Member of the Board for Risk. Guests of the enterprise were especially interested in the use of energy-saving technologies in the division – grain dryer that runs on alternative fuel.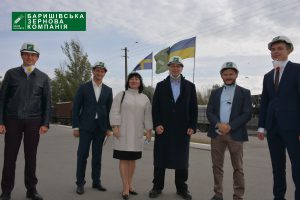 Larysa Bondareva, Deputy Chairman of the Board of Credit Agricole Bank:
– It is always a pleasure to visit the production facilities of Baryshivska grain company. Always only positive impressions. Each once we meet with management, with your team we see that the company is persistently moving forward: you can see the right investment, and more development plans ahead. That is, the company does not stand on place, management thinks over every step forward. And for us bankers, it an extremely important factor on which our trust is based.
Today we have already processed more than 36,000 tons of grains on dryers working with alternative fuel in our "Pyriatyn Elevator". "As always, the company is open to everyone who wants to develop agro-industry in Ukraine – financial institutions, fellow farmers, and other stakeholders", – says Tahir Musayev, the vice-president, Chief Commercial Officer. "Baryshivska grain company pays considerable attention to sincere cooperation with our partners in Ukraine and abroad. Yes, today we work with three leading world banks, and this work gives its results. All the development and progress that the company has had over the past 20 years has begun possible thanks to our financial partners. We do not let down ours friends, we are fulfilling all our commitments, and we hope for the future cooperation for the benefit of the company and the whole Ukraine", – adds Mr. Musayev.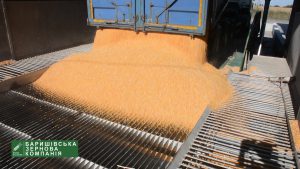 At the end of 2019, the Baryshivska grain company received a loan of 10 million euros from the European Bank for Reconstruction and Development. Part of this investments was the acquisition and installation of new dryers with heat generators running on alternative fuels. From 2017 on the Pyriatyn elevator grain processing dead waste has been successfully tested as a source of heat. Today, this new grain acceptance and drying complex is working mostly on this type of fuel.