Grain Alliance has launched the 2nd phase of Nizhyn elevator in Chernihiv region of Ukraine
On November the 2nd, 2021, the official opening of the second stage of the modern elevator took place in Nizhyn. The first stage was launched in 2017. Then storage capacities for 24.5 thousand tons and drying capacity for 800 tons of corn per day were built. As part of the second stage, 46.5 thousand tons of storage and a drying capacity of 1500 tons of corn per day were added. Thus, the total storage capacity at the facility is more than 70 thousand tons, and the drying capacity is more than 2300 tons of corn per day. A unique feature of the facility is the operation of dryers exclusively on solid biofuel including production waste, sunflower husk, biomass pellets. Thus, with nil use of natural gas, the facility will dry about 100 thousand tons of corn per year of its own and the third parties' grain. It estimated this to save about 600 thousand m3 to 1 million m3 of natural gas per season. Thus, this facility not only increases the economic potential of the region, but also makes a significant contribution to environmental safety, as well as energy independence of Ukraine.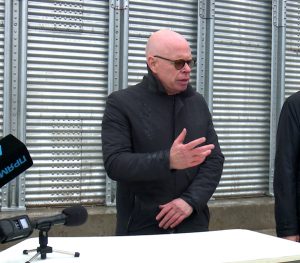 Opening by – Johan Damne, Chairman of the Board of Directors of Grain Alliance
The opening ceremony was attended by good friends and partners of the Grain Alliance in Ukraine, including officials and representatives of partner banks.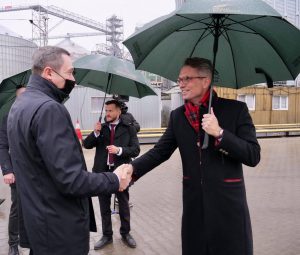 Oleksiy Chernyshov, Minister for Communities and Territories Development of Ukraine and Tobias Thyberg, Ambassador Extraordinary and Plenipotentiary of Sweden to Ukraine;
Among them:
– Oleksiy Chernyshov, Minister for Communities and Territories Development of Ukraine
– Tobias Thyberg, Ambassador Extraordinary and Plenipotentiary of Sweden to Ukraine;
– Viacheslav Chaus, Governor of Chernihiv Region
– Anna Lebedynets, Associate Director, Senior Banker at European Bank for Reconstruction and Development (EBRD);
– Olena Dmytrenko, Chairman of the Chernihiv Regional Council;
– Laurent Dupush CEO & Country manager for Ukraine at BNP Paribas and Chairman of the Management Board of Ukrsibbank;
– Alexander Kodola, Nizhyn mayor
– Carlos de Cordoue, Chairman of the Management Board of Credit Agricole Ukraine;